[English Version Series⑨] BAND-MAID Road to "WORLD DOMINATION" Los Angeles①
English edition serialization: BAND-MAID Road to "WORLD DOMINATION"
9/30/2019 USA/Los Angeles @ ECHOPLEX
Original article: BARKS https://www.barks.jp/news/?id=1000172521
Hey!! It's Akane!

The BAND-MAID WORLD DOMINATION TOUR 2019 〜gekidou〜
The 4th show for our US tour was in Los Angeles!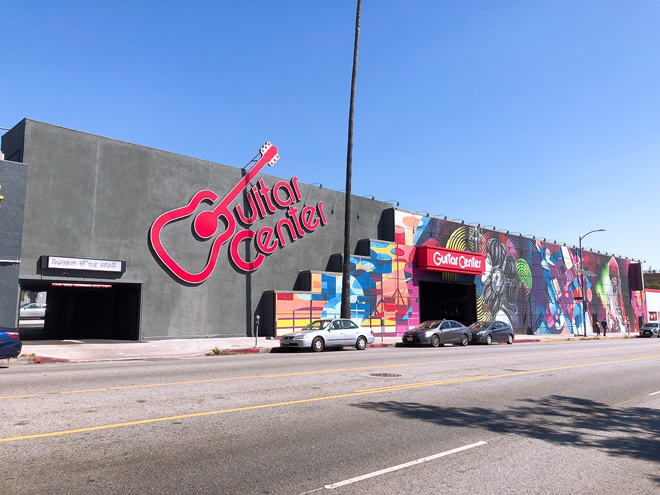 ▲A huge music instrument store in LA

We made it to LA the day before after getting in early from Dallas.
Once the evening came around we headed out to get an amazing dinner
at this restaurant in Beverly Hills called "Ima."

We all ordered their shabu-shabu to try out.
And the meat they used was the type of high-end stuff that's really hard to come by even in Japan.
It tasted absolutely delicious!!! (*tears of joy*)

We were on the last part of our tour, and we knew we had to give it our all!
So we all made sure to give a cheer and pump ourselves up!!!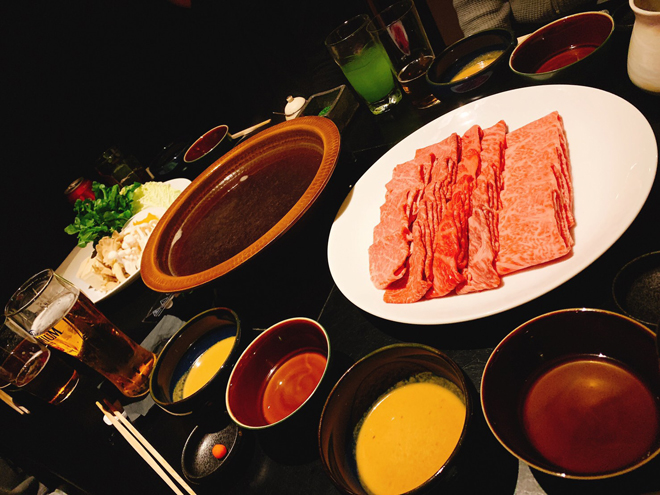 ▲Our shabu-shabu dinner

Then on September 30th we went to the Echoplex venue to serve up a concert!!

This was actually our 2nd time in LA for our own show,
but this time there were way more masters and mistresses that came out to see us.
It was so cool to see!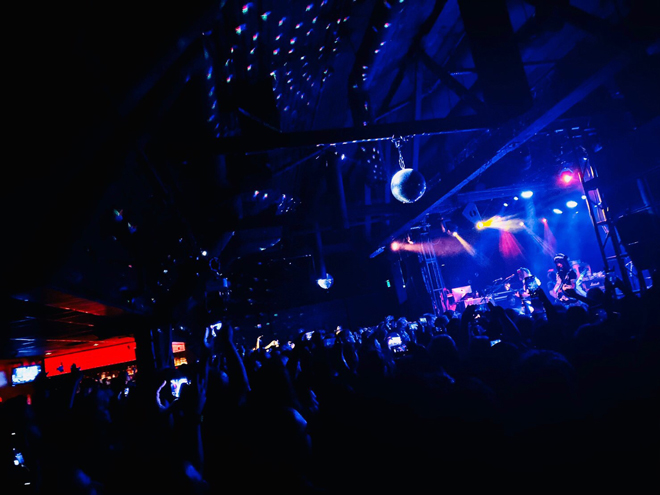 ▲Serving our performance in LA

Right from the very first song the whole venue was going crazy with excitement!!
Especially when we did our song "Thrill." The audience roared with excitement as soon as we started the intro!!
People were striking poses, shouting in the air, and giving each other high fives.
I was able to get right in touch with the crowd's excitement!!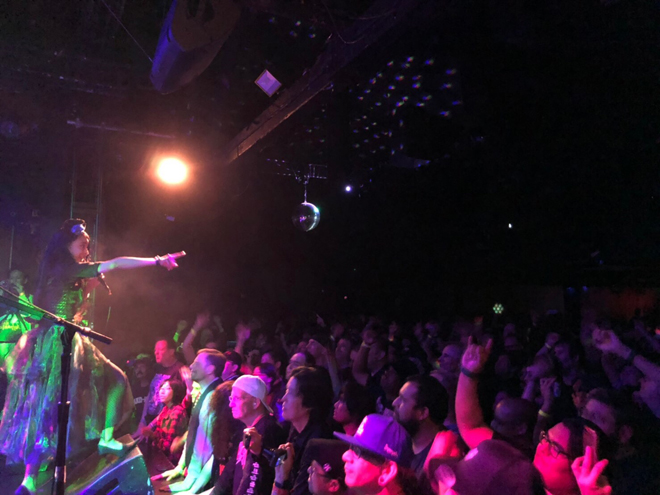 ▲Our masters and mistresses getting amped up by Saiki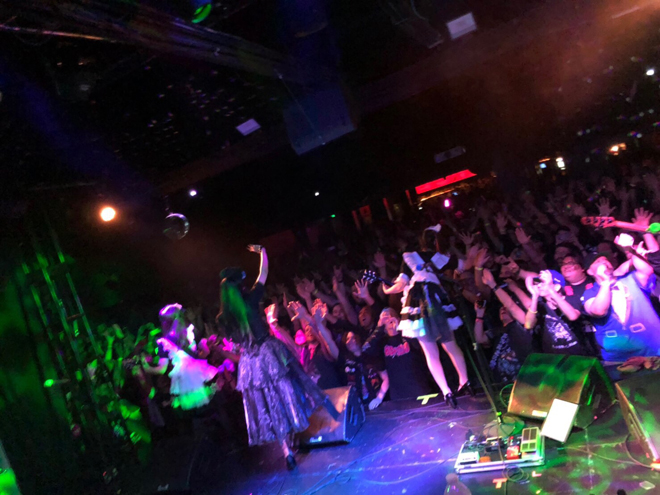 ▲Akane's view of the LA service

Kobato also did an exceptional job as the host for the show.
It was heart stirring to see how much the whole crowd enjoyed Kobato leading the show like that.
And having a good host like that did wonders for our big chorus on "Daydreaming." It gave me goosebumps!

Kanami also had her birthday on the 28th.
So, all of our masters and mistresses at the show sang her Happy Birthday! It was incredible!!!!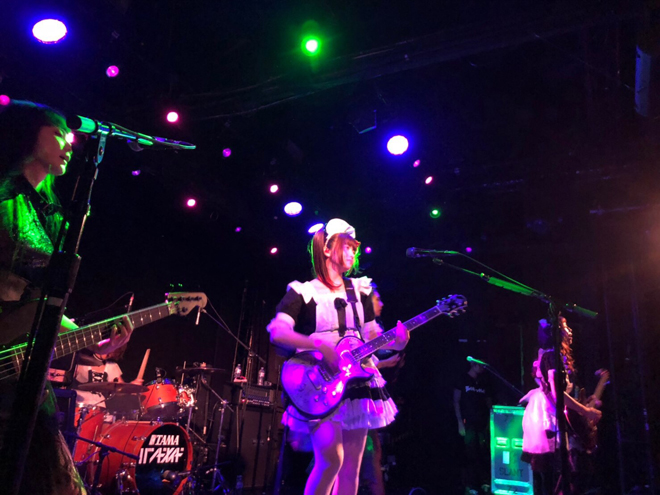 ▲The band rocking out at the show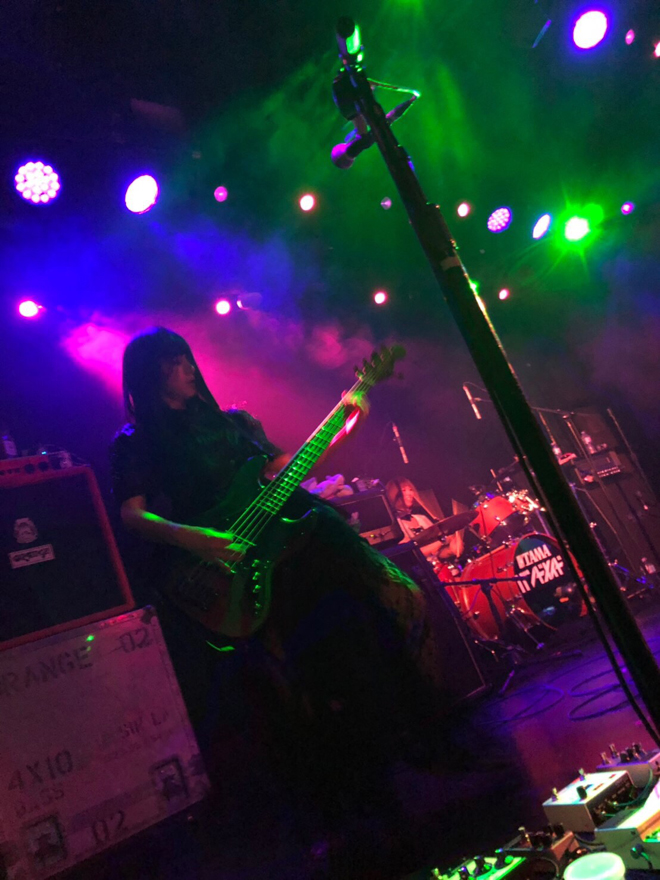 ▲Misa, a fan favorite abroad

Every show we did here I got to see everyone enjoying themselves,
and it made me so happy that we got a chance to play in the US this year too.
I really hope we can do a world tour like this every year!!!!

Just one more stop to go on our US tour!!!
We're going to go full steam ahead till the end of the tour, so look out!!!!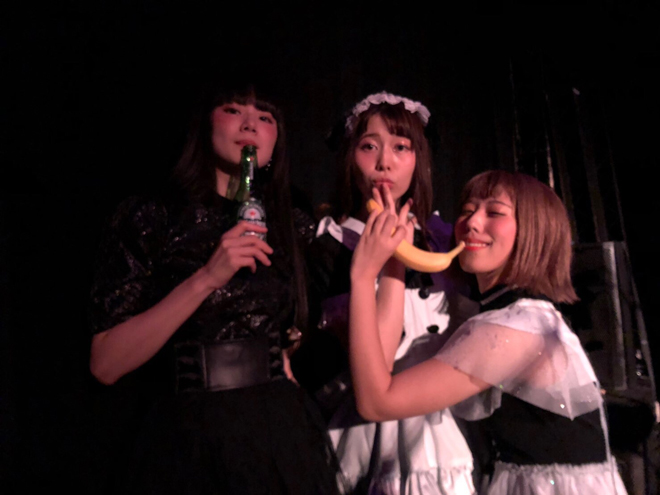 A commemorative photo by the stage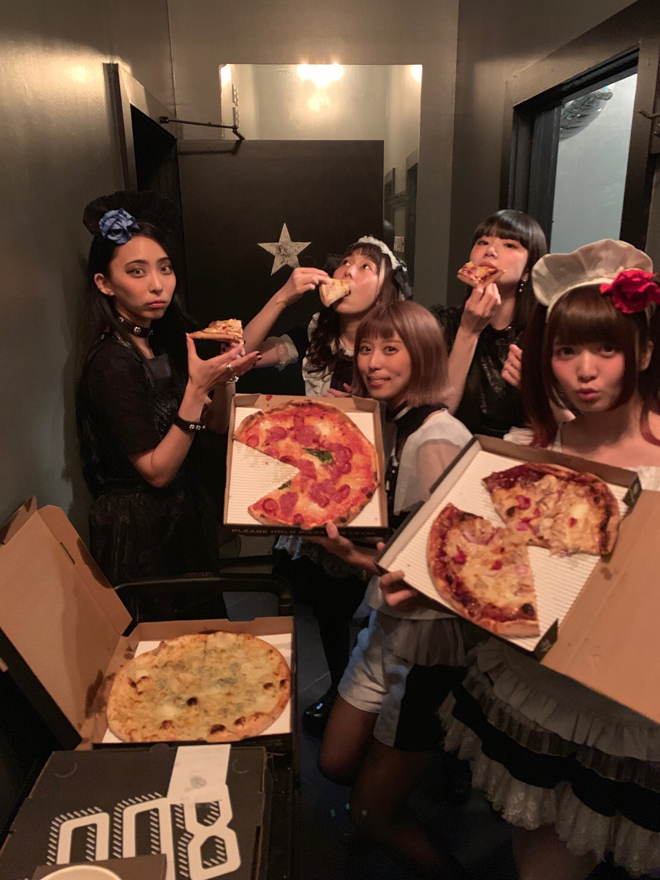 ▲Pizza party backstage
WORLD TOUR REPORT PAGE