[Ticket now on sale] December 13 "BAND-MAID ONLINE OKYU-JI" - Ticket Info Page
BAND-MAID is putting on a full-scale OKYU-JI show online!
■This OKYU-JI was viewed from 66 countries around the world,
more than the previous two.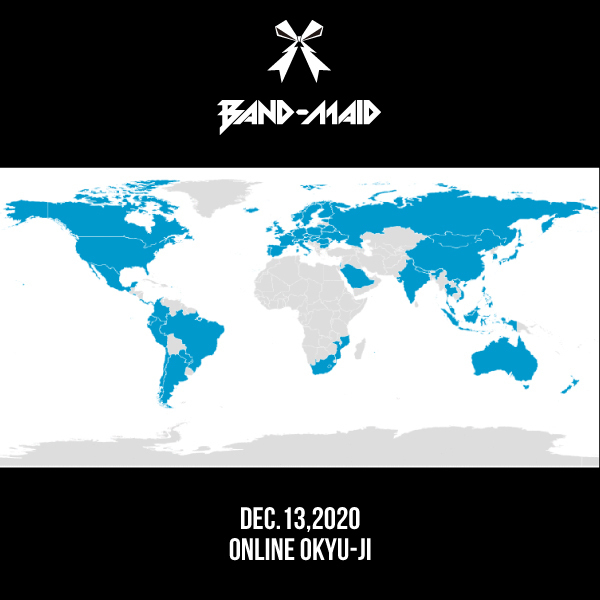 Archived tickets are on sale now.
This will be their 3rd stream, and for the first time it will be a full-on show!
It's going to be shot from up on the stage to bring you a view you don't usually get to see!
And you'll get to see up-close shots of the band in this special Okyu-ji show that's only made possible through online streaming.
They'll also be playing their new song, "Different"!
This live stream will be coming straight to you from a certain somewhere in the city!
"BAND-MAID ONLINE OKYU-JI"
Date: Sunday December 13th starting at 4:00pm Japan time
Reception: From November 26 (Thu) 12:00 p.m. JST
Tickets:
・Extended Archive Tickets
OMEISYUSAMA (Paid Fan Club Members): 3,000 Yen 
General: 3,500 Yen 
Available via the archive on December 13th (after the broadcast is over)
until 11:59pm on Saturday March 13th.
Exclusive for overseas OMEISYUSAMA→ZAIKO(English)
*For paid fan club members only.
*Please continue after logging in.
・Extended Archive Tickets (Price for OMEISYUSAMA) 3,000 yen
Service for O-meishu-sama both in Japan and abroad is provided by ZAIKO.
URL:https://bandmaid.tokyo/contents/376134
General Purchases
・Extended Archive Tickets 3,500yen
https://l-tike.zaiko.io/e/bandmaid1213