[Interview] AERA dot. translation
Long interview by AERA dot. Dec. 3 ,2020
https://dot.asahi.com/dot/2020120200056.html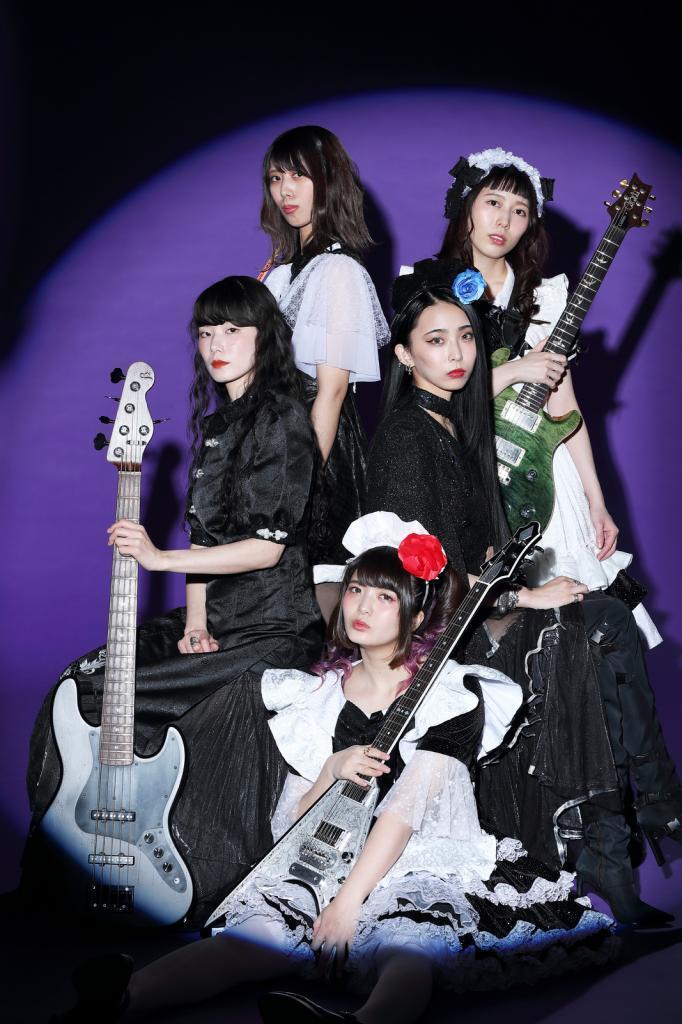 Aside from the more straightforward translation of the word "different" as meaning "not the same,"
English-Japanese dictionaries also define "different" as meaning "eccentric or unique."
BAND-MAID, a band with a "unique" presence within the music scene, will be releasing "Different,"
their first new song in nearly a year, on December 2.
A new album is slated to be released in January next year,
along with a yet to be confirmed solo show in the Nippon Budokan in February.
The band has been on the rise recently but this momentum was unfortunately halted due to the COVID-19 pandemic.
All festivals and tours during spring and summer of this year were canceled and the band's activities were heavily restricted.
How did you overcome such difficulties while maintaining your motivation through such hard times? We asked the 5 members.
...this happened a little while ago, but the two dates at LINE CUBE SHIBUYA (February 13/14) sold out,
which was a huge success. Wasn't this a big step forward for BAND-MAID?
MIKU: The middle tunes in the album "CONQUEROR" released in December last year were developed successfully during live performances,
so I'd say that the growth of the overall narrative had both slower and faster stages.
Those events were held during the final days before the spread of COVID-19 really got going,
so thinking about the chance to play live performances like that now seems like a miracle.
SAIKI: It seems a long time ago. It's hard to remember... (laughs).
Still, I had a pretty deep sense that "進化 (Shinka) -Evolution" would be the only title for this final performance.
Along with living up to the expectations of our masters and princesses,
it was a statement that we were determined to go further and take everyone along with us.
For me, being able to sing with full throated passion to the highest level over those two days
along with carrying those middle tempo songs that I could not sing before,
and that I was able to demonstrate all this at LINE CUBE SHIBUYA...well, that's evolution, right?
KANAMI: On the tour, many songs were performed to different arrangements from the album.
Our masters and princesses soon realized "solo is coming" and we all started to enjoy it together.
I also wanted to give the songs arranged for the tour a feeling of "進化(Shinka) -Evolution"
and make the live performance something that could only be seen at LINE CUBE SHIBUYA,
so the excitement and sense of unity on that day was incredible to be a part of.
AKANE: Shibuya is a memorable spot for us. Back in the day, we used to perform at Shibuya Eggman as our home venue in front of LINE CUBE SHIBUYA.
For us, LINE CUBE SHIBUYA was always a venue we aspired to, always talking about how "one day we'll do it."
I was deeply moved that we could perform there for 2 days.
Personally, I felt very comfortable playing there because for the first time there were many chances for long drum solos and to develop songs using the whole drum kit.
MISA : I only remember the part after it was over (laughs).
Following the performance when the solo performance at the Budokan was announced and I saw the screen with everyone cheering us on stage,
my emotions overwhelmed me to the point where I cried. They were tears of joy.
SAIKI: The screaming and wild cheers from my masters and pricesses gave me goosebumps.
It was beyond anything I'd ever heard.
...at the venue a nationwide ZEPP tour was announced along with the decision to appear at a large festival some time in spring or summer.
However, due to the spread of COVID-19, the tour and festival were both canceled.
A state of emergency was in place during April and May.
During that time, a cluster outbreak occured at a live house, making the situation particularly difficult for musicians.
Could you please tell us what the situation was like at that time?
SAIKI: I was so anxious that I wasn't really thinking much about anything (laughs).
All the members kept in touch, wondering if there was anything more we could do than just think about things.
MIKU: I thought it wasn't great to just sit around feeling anxious with be able to do anything,
so we all talked remotely about what we could do at home or what we might do next.
Since I couldn't go into the studio, I worked hard on small but important details such as improving the precision of individual pieces of equipment,
deciding song assignments, individual practice, and remote reporting of results.
I want to be directly connected to my masters and princesses during our member "MAID DAY ZOOM meeting" on May 10,
so I'd like to distribute it online. Rather than changing everything suddenly because of COVID-19,
I've been thinking constantly about what we can do and what our masters and pricesses can do.
SAIKI: We were in a difficult situation, but things were also really bad for people working in restaurants and other occupations.
I think many of them got sick. We have increased content for fan clubs so that those who know us well can feel energized and support those people who are having a hard time.
MIKU: I was really concerned about whether or not to cancel the ZEPP tour.
I was constantly consulting with our staff about it.
Not knowing what would happen with COVID-19 from day to day,
we did simulations to plan different arrangements under which we could perhaps perform,
but many of our songs are intense and the possibility of increased density occurring was high.
Since it was absolutely necessary to avoid endangering the health of our masters and pricesses,
we decided to cancel the tour despite our tears. Even though we couldn't do it this summer, I definitely want to make up for it in the future.
...Under such circumstances, BAND-MAID held two live performances in July and August with no live audience present and broadcast them to the whole world.
Being the first attempt, it inevitably faced challenges, but the response overall was great with fans in over 50 countries.
MIKU: I think it was some time in June that I decided. After all, it was hard not to go into the studio.
Rehearsals were basically done through remote consultations, a sort of "let's do this song today" approach.
But when I tried playing the songs individually, I'd just feel a bit like "What am I doing here?" or "What about the ensemble?" and just finish it and then check in remotely.
SAIKI: We were only able to rehearse all together about 3 or 4 times starting in July. In order to do it,
I asked the video team I always use to join in and help with the production in order to make the performance seem unique for online distribution and to make the most of the LED panels in the background.
Even though the broadcast time was set at 60 minutes, songs were carefully selected to avoided tiring our audience.
MIKU: There must be some masters and pricesses out there who are seeing BAND-MAID for the first time via this live broadcast,
so many of the chosen songs have music videos.
Focusing on songs popular via music videos seemed to require quite a bit of trial
and error because LEDs must be used the right way to create an interesting live show with an MV atmosphere.
...How was playing on stage with no audience?
MIKU: At first I was pretty worried as I couldn't see the audience's reactions. However, when I looked a tthe monitor,
there were more and more comments coming from audience members watching from home.
As MC, I responded as I picked up comments, which was something unexpected, something not usually done at ordinary live shows.
SAIKI: Apparently there were people from many different countries watching worldwide.
Some comments came in from language we could not read at all! (laughs) Even though we couldn't read them, the excitement somehow came through.
The words flew in like the wind, so fast! It's really something to know that emotions can be conveyed simply through written letters.
MIKU: You could also see from the words that they were singing together. It was a new experience to see reactions to our music solely via words on a monitor during performance.
AKANE: That was why I was never lonely even without a [live] audience.
KANAMI: You could see on the monitors what was being transmitted.
SAIKI: In terms of playing to the person behind the camera, it was a bit like recording for TV. We felt like television entertainers (laughs)
..."Different," your first new song in nearly a year, will be released on December 2. It's a song that has a unique sense of speed and it looks great performed live.
MIKU: That's right. Over 2 years ago, I heard that this song was used as the opening theme song
for the NHK anime "Log Horizon: Entaku Houkai" so it seems it was recorded at the same time as the previous album.
KANAMI: At the time we're talking about, there was a demo of the song.
The song was made along to the images of a dark picture book, so I thought it would suit the world of "Log Horizon" so I arranged this and made it happen.
SAIKI: Kobato wrote the lyrics according to the worldview of that anime, so there were many difficult words and a very fast tempo, so it was difficult to keep up (laughs).
And because the lyrics are so tightly packed in, deciding when to breath is hard.
If you sing it just as it is, in a sort of flowing style, no one will know what you're saying, so I practiced quite a bit before I could sing it properly.
MIKU: I wrote the lyrics after reading the original novel and revelling in the great impact of the words used in the anime.
I was very conscious of word selection while composing the song, as I wanted to make sure my lyrics lived up to those who love the original.
MISA: It's a song with a real sense of speed, so I tried to play the bass line with cool sounding phrasing and conspicuous picking without including overly complex phrasing.
AKANE: Drums tend to get a bit clogged up during fast paced songs, but I wanted to make sure the vocal melody would stand out,
so I stayed conscious of phrases that would accomplish this without reducing the number of notes.
― Next year, the 4th album "Unseen World" will be released on January 20 with a solo performance finally held at Nippon Budokan on February 11.
MIKU: The album consists of two sections, "Return to Origin" and "Current Evolution Point," as if two different BAND-MAID patterns have been condensed into a single sheet.
"現点進化(genten shinka) -Progress" is a phrase we made up, but "原点回帰(genten kaiki) -Roots" is a group of of songs that remind us of the past,
which are closest to the feelings of the early songs and yet still be expressed by our current BAND-MAID iteration.
On the other hand, with "現点進化 -Progress" the songs are more innovative or challenging than we have attempted before now.
KANAMI: "原点回帰 -Roots" focuses more on hard rock style songs with emphasis on riffs that will please those
of our masters and pricesses who have been fond of this style since "Brand New Maid" (EP released May 2016).
SAIKI: There were sort of separate "原点回帰- Roots" and "現点進化 -Progress" groups among our masters and princesses
so I wanted this album to show everyone that it doesn't matter which group you're in.
Because all the old songs are still us. If you're wondering what kind of band BAND-MAID is, I think this album will solve your dilemma (laughs).
MIKU: I heard it said that we wouldn't do songs like the ones from the old days anymore, so I decided to say "No way" to that.
SAIKI I want to do both! Or something like that (laughs). I don't think it's "either or."
I think it's an album that can take everyone to a world they've never seen before, as the album title implies.
KANAMI: At Budokan, we plan to remake everything from Opening SE onward in order
to make it an unprecedented live show in which the songs are infused with our world view from beginning to end.
AKANE: Budokan is a venue we've been aiming for, but of course it's not the final goal.
What I'm really trying to say is that I'm always looking toward the next stage.
MISA: I want to release all the energy I've built up over the past year when we perform at the Budokan.
But this time, I might cry in the middle of the live perfomance (laughs). Recently, tears have come easily to me.
MIKU: MISA-chan is very sensitive. We're all the same.
I'm sure the masters and princesses have also built up many emotions,
so we would like to be the ones to give them this live performance where they can release that energy.
Above all, the most important thing is to hold the event safely and properly.
SAIKI: That's right.
Mostly, I'm grateful that it can be held at all, but the ideal thing would be to do it at full capacity if possible.
That said, whatever the sitution, what I really hope is to play my best set ever,
one that transports my masters and princesse into our "Unseen World."