【NEWS】BAND-MAID "THE DAY OF MAID" online spot sale
■■BAND-MAID "THE DAY OF MAID" online spot sale■■
To commemorate BAND-MAID "THE DAY OF MAID," an online spot sale will start on May 10, 2021 (Mon). Take advantage of this opportunity, and get limited items that come with your purchases.
Details are as below.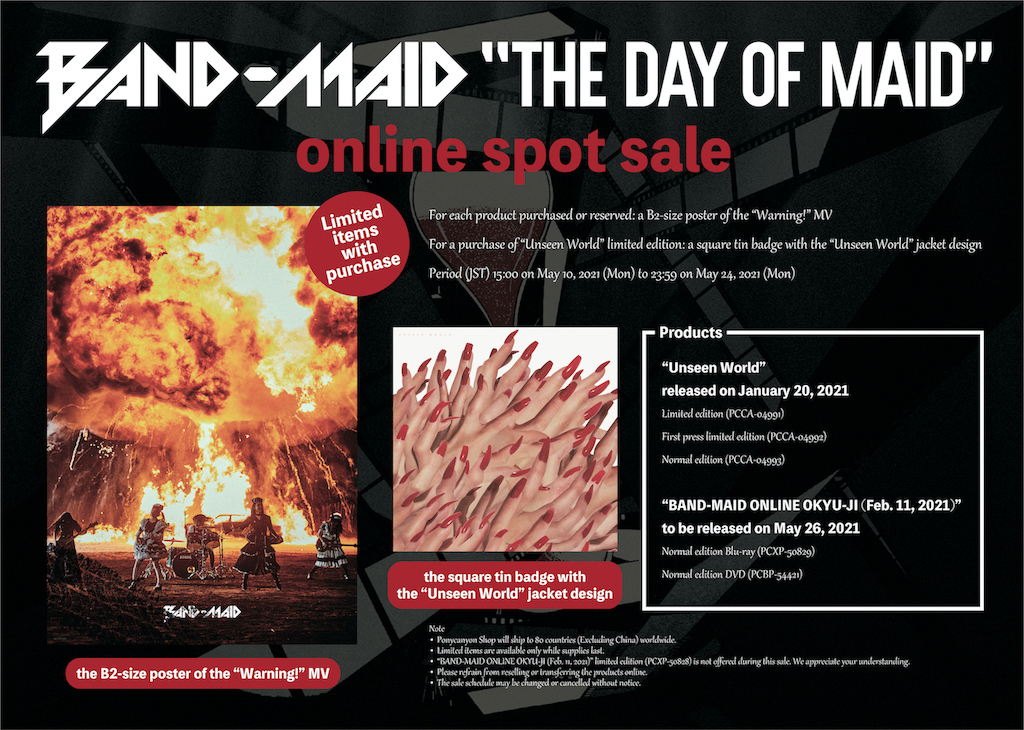 Period (JST)
15:00 on May 10, 2021 (Mon) to 23:59 on May 24, 2021 (Mon)
Website
https://shop.ponycan.com/products/list?category_id=&name=BAND-MAID
*open only during the sale period
Limited items with purchase
For each product purchased or reserved: a B2-size poster of the "Warning!" MV
For a purchase of "Unseen World" limited edition: a square tin badge with the "Unseen World" jacket design
Products
BAND-MAID "Unseen World" released on January 20, 2021
Limited edition (PCCA-04991)
First press limited edition (PCCA-04992)
Normal edition (PCCA-04993)
BAND-MAID "BAND-MAID ONLINE OKYU-JI (Feb. 11, 2021)" to be released on May 26, 2021
Normal edition Blu-ray (PCXP-50829)
Normal edition DVD (PCBP-54421)
Note
・Ponycanyon Shop will ship to 80 countries (Excluding China) worldwide.
・Limited items are available only while supplies last.
・"BAND-MAID ONLINE OKYU-JI (Feb. 11, 2021)" limited edition (PCXP-50828) is not offered during this sale. We appreciate your understanding.
・Please refrain from reselling or transferring the products online.
The sale schedule may be changed or cancelled without notice