[NEWS] BAND-MAID Media Information
■BAND-MAID Media Info
・BAND-MAID will appear on the YOSHIKI CHANNEL!
Miku Kobato and SAIKI will appear on YOSHIKI CHANNEL on Feb. 25(Fri)!
NicoNico
https://ch.nicovideo.jp/yoshikiofficial/blomaga/ar2079897
YouTube
・The live tour will be held in the US! Details will be announced as soon as possible.
https://bandmaid.tokyo/contents/486225
・The first official scorebook "BAND-MAID Official Score for Unseen World" will be released on 1/31 (Mon.)!
https://bandmaid.tokyo/contents/476943
BAND-MAID "Choose me" has been selected as an insert song for HBO MAX "Peacemaker",
a live-action drama based on the DC animated series!
It is also listed in the official playlist #16.
https://open.spotify.com/playlist/6k0Pd1cAC3pmdvO7NstFkq?si=6aa45dc42061437e
This drama will be available on U-NEXT in Japan at a later date.
・The song "Catharsis" from "BAND-MAID ONLINE ACOUSTIC" is now available on Youtube.
Long Archive tickets are on sale now!
https://bandmaid.tokyo/contents/477789
・「Sense」Music Video Full Ver.
・「Sense」Distribution list
https://band-maid.lnk.to/Sense
・Anime "Platinum End" BAND-MAID's "Sense" is also the OP theme for the second season.
https://anime-platinumend.com/
Radio program "BANDMAID NIPPON" will start broadcasting on the Japanese radio station Nippon Broadcasting System Inc.
Miku Kobato and SAIKI will be the personalities.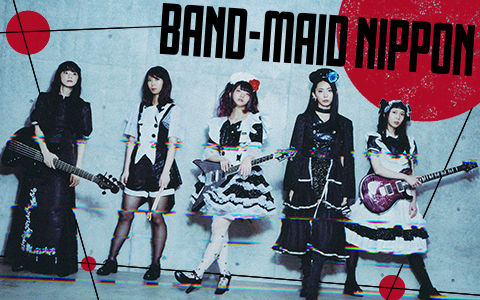 ・Special Radio Progoram「BAND-MAID NIPPON」
・date: Every Wednesday, PM09:00
・Personalities MIKU KOBATO,SAIKI
・Mail Address  bm@1242.com
・Hashtag #bandmaidnippon

You can listen to this program up to one week after it airs by using the time-free function of radiko.
http://radiko.jp/share/?sid=LFR&t=202110272100
[Inteview]
TOKION (English)
https://tokion.jp/en/2021/10/25/global-icon-band-maid-part1/
https://tokion.jp/en/2021/10/29/global-icon-band-maid-part2/
Billboard (English)
https://www.billboard.com/music/rock/billboard-japan-band-maid-interview-1235003909/